Character Areas
The appearance of the proposal will draw on the character of a traditional Devon River estuary village.
The houses will have a Formal, Coastal, and Cottage / Arts and Crafts appearance depending on their location on the plan.
Formal Character, shown in orange on the plan, will be used for the houses around the entrance Green and along the new access road to Phase 1.
Coastal Character, shown in blue on the plan, will be used on the outer perimeter of the proposal and the houses that face outwards towards the River Taw estuary.
Cottage / Arts and Crafts Character, shown in green on the plan, will be used on narrower streets and lanes that form the heart of the new village.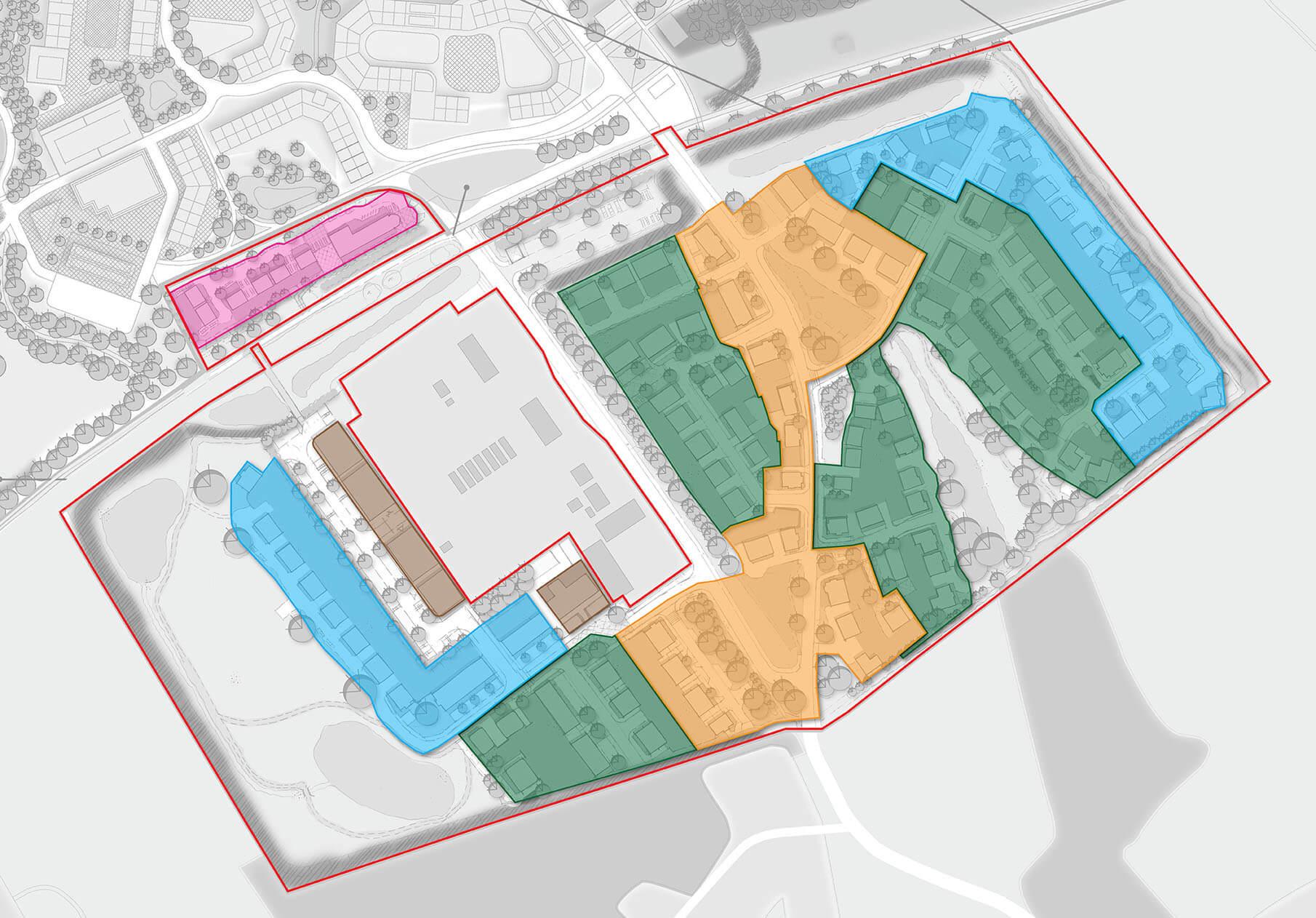 Formal Character

Houses with a formal appearance enclose the entrance green and the main street. They will have symmetrical elevations, sliding sash scale window openings, Georgian style door surrounds, and decorative details. They will be faced in brick or render.


Coastal Character
The Coastal Contemporary character is inspired by seaside references, optimising views and light. They will have walls of rubble stone and boarding in a palette of ocean colours and have large openings with balconies.

Cottage / Arts and Crafts Character
The Cottage character is inspired by Devon hamlets and villages and the traditional cottage look. The style is informal and derives from both local sources and later Arts & Crafts examples that drew on the English vernacular for inspiration. They will be faced in painted brick or roughcast render.

Yelland Station
This new tourist facility will be located on the north side of the Tarka Trail and will be accessed from the approved Phase 1. It will incorporate a Café, Kiosk and a Bike Hire / Repair shop. A platform deck and canopy will face south, making reference to the former railway line with the look of a 'Station'. There is a ramped link to the Tarka Trail for bikes and pedestrians from the platform deck. The building will be faced in rubble stone and boarding and will have large glazed openings on the ground floor.